Search & Placement: I am the founder of the partner-level legal search and placement boutique True North Partner Management. With over 20 years in search and placement – 15 in legal – I  have experience representing attorneys from, and/or representing attorneys to, the vast majority of the "major firms" market, bringing me into the cultural, economic, and business folds of each. My understanding of the intricacies of the legal landscape affords me an effective skill set from which to evaluate and vet both firms and partners.
Author: My books represent a thorough and structured understanding of the business and employment sides of the legal market. This structure informs and guides the decisions I and my firm make for our clients in a predictable way, on a daily basis.  To learn more, please see My Books page.
Columnist: My media interviews bring me up close and personal with the most important people in BigLaw, providing me unparalleled access and an unparalleled view into the business aspects and future of the industry. To learn more, please see my Media page.
Speaker: My speaking engagements include keynotes for the likes of The Global Legal Post's and International New York Times' The Future of Law Summit (London), The World Services Group's North American Conference (Utah), and Wilmington PLC's Law Firm Chief Strategy Officer Summit (New York) and The Law Firm Innovation Summit (Boston).

Thought Leader: I am a co-founder of The Legal Institute for Forward Thinking, an international legal think tank and advisory board comprising some of the legal industry's most prominent luminaries, further entrenching me as one of a very limited breed of thought-leaders in the legal search and placement industry. I am also an American Lawyer Fellow: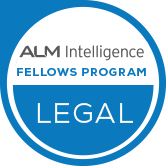 " Who are the Fellows? ALM Intelligence Fellows come from a broad range of backgrounds including: academic institutions, consulting firms, corporate counsel offices, and law firm leadership teams. While individual backgrounds vary, Fellows share two essential qualities: significant experience in the legal industry and ability to produce high quality, data-driven market intelligence on the business of law."
Between my recruitment experience, publications, speaking and journalism, my firm and I have built up a network that is unparalleled in firm-to-firm placement, earning us access to the most important people in the industry.